The value of the Bitcoin NUPL indicator has fallen sharply recently, a trend that could signal the start of the first period of the bear market.
After the crash, the value of Bitcoin NUPL decreased to 32.5%
According to the latest weekly report from glass knotthe recent BTC NUPL trend may suggest that the start of the bear market begins now.
The "Net Unrealized Profit and Loss" (or NUPL for short) is an on-chain indicator that measures the difference between relative unrealized profit and relative unrealized loss.
NUPL = (market cap – realized cap) / market cap
In simpler terms, what this metric tells us is whether the Bitcoin market as a whole is currently in a profit or loss state.
The indicator works by looking at each coin in the chain and checking if its current price is lower or higher than the price at which it was bought.
When the NUPL value is greater than zero, it means that the entire Bitcoin network is currently in profit. On the other hand, negative values ​​imply that investors are, on average, losing at the moment.
Historically, the further the indicator has deviated from zero, the closer the price has come to a high or low (depending on which direction of zero the metric is currently pointing to).
Related Reading | After the Crash, Bitcoin's Open Interest Drops to September 2021 Levels
Now, here is a chart that highlights the trend of Bitcoin NUPL over the history of the coin:
Looks like the metric's value has sharply declined recently | Source: The Glassnode Week Onchain - Week 4, 2022
As shown in the chart above, Bitcoin NUPL has fallen sharply recently and its value is now at 0.325. This means that currently 32.5% of the crypto market capitalization is held as unrealized profit.
Related Reading | Has Bitcoin bottomed out? Analyst says there is still a long way to go
The current value of the indicator appears to be in a region that has historically signaled an early bear market trend, as highlighted by the chart colors.
The trend over the past year has also been one of bearish divergence. Therefore, all signs of NUPL indicate that this could now be the start of a new bear market.
An interesting fact is that similar values ​​were also there after the crash of May 2021. So, in a sense, a bear market also started at that time, but it only lasted a few months.
BTC price
As of this writing, the price of Bitcoin is hovering around $36.4k, down 12% in the past seven days. Over the past month, the crypto has lost 28% in value.
The chart below shows the price trend of BTC over the past five days.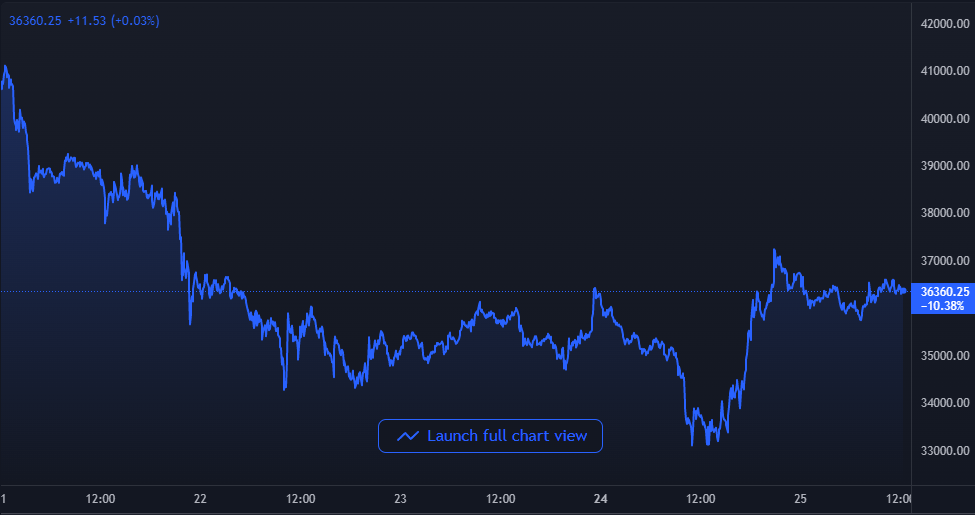 BTC's price plunged to $33k yesterday, but has since recovered back above $36k | Source: BTCUSD on TradingView
Featured image from Unsplash.com, charts from TradingView.com, Glassnode.com